Its time again for foldees' latest contest, and this time the theme is entitled "Where No Man Has Gone Before". The premise is simple, you have to design a birthday card with a sci-fi (science fiction) theme. Since there's a lot of sci-fi flicks out there, I decided to spoof the most recognisable sci-fi flick/franchise known to man, Star Wars (now now, don't get angry Trekkies). Check it out:



A Jedi Special Day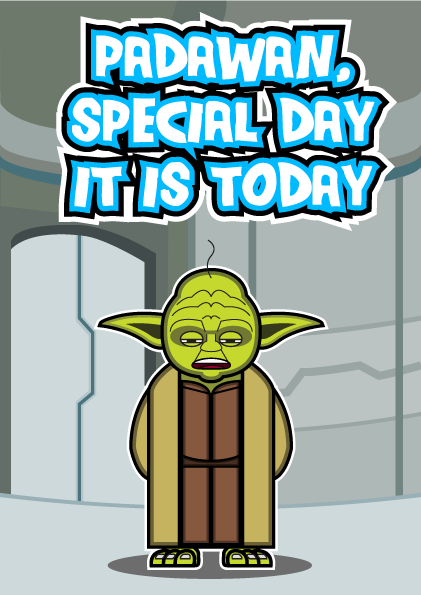 Cover of the card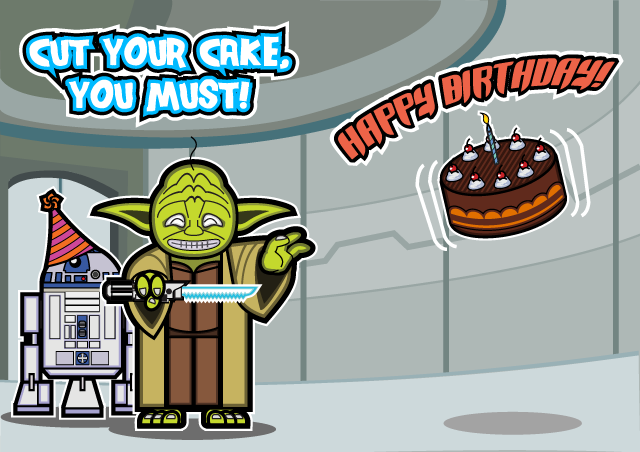 Description:
At the cover, Yoda is depicted as talking to a budding Jedi, which is directed to the audience, I guess they should be called Jedience? Ok lame joke. Anyway, he speaks in his usual grand master-ish manner and says that its a special day today, with a serious face, the face that he usually makes when he gives advice or orders.
When the reader opens the card, Yoda surprises them with two things, a special unique light saber that is remodeled in such a way that it functions as cake knife. He presents this blue saber "knife" to the reader WHILE actively floating the birthday cake, while smiling too. And that clearly reminds you why he's a master Jedi. R2D2 gets out of hiding and joins the fun (equipped with party hat) all because its party time for A Jedi Special Day.
Before the Star Wars experts ask, there are two reasons why I chose a Blue Light Saber.
Its supposed to be a gift from Yoda, so its not his Green Light Saber.
Try as I might, the Blue Light Saber version wins hands down when printed
Rating has just started on 1st of April, and it will run 'til the 1st of May, there's still plenty of time to rate, so if you have the time, please rate the cards, and if you like my card, show your support and give me a good score. To start, go
here
and make sure you've registered with Foldees. This time around its more or less 40 cards in the running, so it won't be that tedious :) besides you get a free card.
So, ladies and gentleman, please head on down to
www.foldees.com
and start rating! Gimme a good score and please rate the others fairly.
Remember, don't rate this post, instead, rate my card AT foldees.com, I won't gain anything if you just rate my blog post :P
Thanks!