Foldees.com's third contest, "A Game of Love" was held right after their Christmas contest ended. To tell you the truth, I didn't think I'd put in an entry this time around, as I've been having a huge mental block for the past month or so. Well, the reason is, I was getting married in a month, and somehow or rather, my design mind has totally shut itself off. Fortunately, I did manage to submit this entry, although it took me the span of 4 hours, and I know it shows, at least I wouldn't regret not submitting anything, and at least the idea is unique :).
Cheat Codes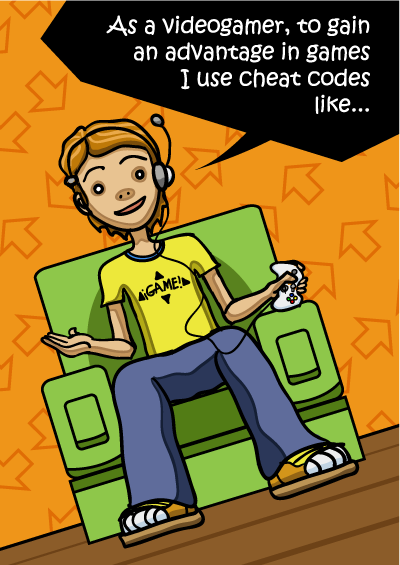 Cover of the card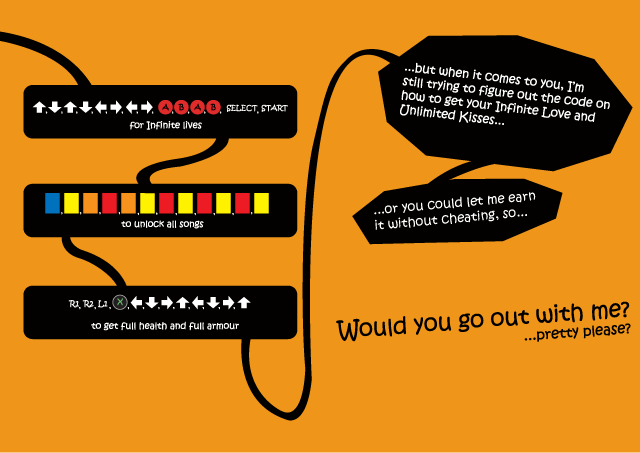 Description:
Cheat codes. If you play video games, particularly for a longggg time, then you would have heard of cheat codes. These cheat codes help you gain an advantage in games, and thats why the term "cheat" comes to play. The methods differ, but my card goes with the old school approach of button combinations. Press the right button combination and you gain cool stuff like unlimited lives, infinite ammunition, extra strength, invicibility or even unlockable items. So, how did it fit this theme? Well, for starters, its called "The Game of Love", and since video games are well, games, I decided to create a fusion of video game and the courting game to create one ultimate corny yet romantic card for someone interested with a girl, but haven't figured out what's the next move. That's the simple truth about this card.
Rating is going to end in a couple of days, there's still some time left to rate the card now, but if you do, just go here and make sure you've registered with Foldees. You need to rate 40 other cards as well, and it won't take you long, not as long as 70+ cards thats for sure. And if you completely rate all of the 40 cards, you gain a free card. So, give me a good rating to support me, and make sure you rate fairly for the other cards too.
Oh, and I'm officially married now, and I'm getting back in the game as soon as possible.