Hi again to everyone visiting my blog,
Foldees.com's second contest's submission period has just concluded recently. I managed to deliver two entries to Foldees and the last one just a day before the extended deadline.
This time around the official entries are cut down to 60 instead of 70 as Foldees wanted quality more than quantity. Lucky for me I got both my entries in this time. The theme this time is "A Comic Book Christmas" and contestants are supposed to design Christmas cards with a comic book theme. It can be any style as long as you have your comic elements in it. I incorporated a few different styles, including Japanese manga, American comic style and comic vector illustrations.
I posted two entries, and now I need your help to rate my card designs. I'm not asking for biased ratings, just a little bit of your time to rate my two designs. See, the rating system is a bit different this time, as they don't want it to be a popularity contest. So how do they deal with that? They set up a random card rating system, whereby you will have to rate the cards randomly as they come up. Think of it as a shuffled playlist you get with your music player. You can rate the cards randomly 'til you get to my cards if you want to, but if you rate all of them you get a free card sent to you or anyone else in the world since you get a coupon code. One more thing though, you have to register yourself in Foldees.com to rate. So, please be sporting and rate the cards :D

Here are the two entries I submitted.

1st Entry - Stormy Perceptions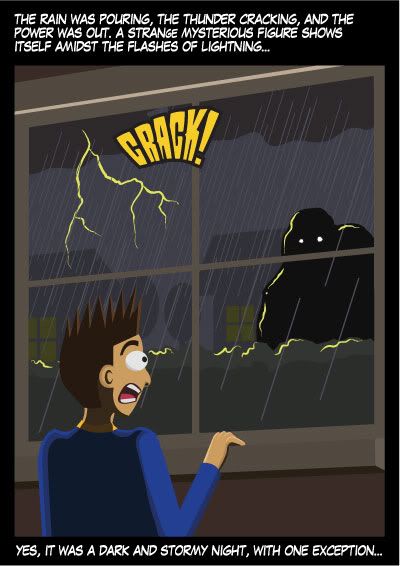 Cover of the card
Inside of the card
Description
The card is a two-page gag. On the front page, you have a kid looking outside the window during a heavy thunderstorm. The power is out, and the flash of lightning outlines a mysterious dark figure. The kid sees this and his imagination runs wild thinking that the figure might be a ghost or a monster. The cover doesn't look like a Christmas card intentionally, as I wanted it to look like just any other comic.
The 2nd part of the comic is inside the card, whereby the "mysterious dark figure" comes in abruptly through the front door and it turns out its just a drenched Santa Claus breaking the silence with his trademark laugh. The kid breaths a sigh of relief (just below the Merry Christmas text). Well, that's basically the rationale for this design. Next..

2nd Entry - The Incredibly Angry Santa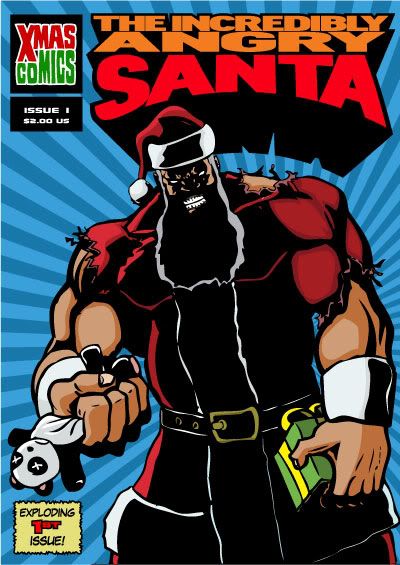 Cover of the card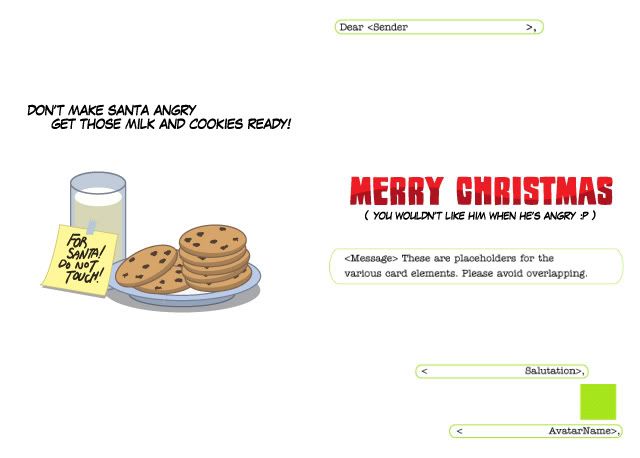 Inside of the card
Description
This card front cover is a tribute to The Incredible Hulk, in case you haven't noticed. I wanted to get a true American-style comic book cover this time around, so that basically explains why there's a bold title, price and a text box saying "1st Explosive Issue" at the bottom. The illustration is inspired by American comics as well with its bold lines and large areas of filled blacks to portray shadow. Santa is seen as being "incredibly angry" and bursting from his clothes, kinda like the transformation of Bruce Banner to the Hulk.
Now I'll explain the inside of the card. Why is he angry? Well he's not actually angry yet, but if you don't leave the milk and cookies (A Christmas tradition), the cover shows the exaggerated portrayal of an upset Santa Claus :).
This time around, the competition is pretty tight since half of these are international entries but I'm still putting some hope in it. I'm pretty sure there's a difference in quality with my recent entries.

So, please please please, help me and support me, the more the merrier, as I'm trying to win the stuff to get extra funding for my upcoming wedding (again!). I'm not asking anyone to be biased and rate me 5, just rate according to what you think I should get. After all, I'm tired of popularity design contests myself. I want to strive to produce better art and designs. Remember, even if you want to support my design, don't rate the others only 1, just rate the cards accordingly, if not I'd be accused of cheating. Shouldn't take too much of your time. Click the image below for you to go straight to the random card rating engine.