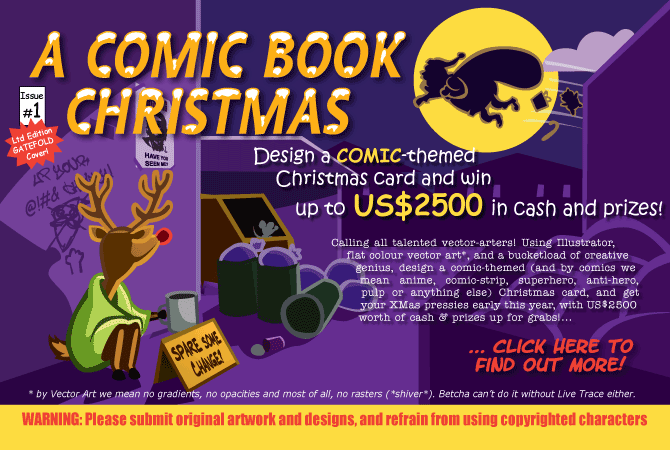 I know this is a late entry, and I can assure you, I'm not trying to "hide" this contest from the competition (huhuhu), I have just been busy, as you can see I haven't posted anything here. Well, recently I attended the prize-giving event held by Foldees for the "We Are All Geeks" card contest and I received my bounty for 2nd prize. Simultaneously, Foldees launched a new contest with a new theme, "A Comic Book Christmas".


What's it all about, you may ask? Well, you'll have to come up with something that is comic-ish in nature, doesn't matter what kind of comic, as long as people can relate to it, and of course, it has to be related with Christmas.


So, go ahead, storm that brain (lame I know) and submit a winning entry to Chak Foldees as soon as possible, as the contest is ending on 20th October 2008! That's right, don't be late or you might not make it. I can honestly say that the competition is going to be pretty close this time around, since we have a familiar theme, and a lot of people who didn't make it for the last contest.


Click the image above to go straight to the contest details. All the best!