Hi to all my loyal readers (not much I suppose, but I need all the support I can get),
Recently, I just posted my submissions for Foldees.com greeting card contest. What is Foldees, you may ask? Well, its a Malaysian greeting card portal that plans to be THE greeting card portal where you can post your designs, or purchase designs and print them out on your own personal printer. A pretty cool idea, since you choose what kind of paper you want to print it on. Personalised cards, anyone?
Anyway, on to my side of the story. The greeting card contest had just finished receiving their entries (all 73 of them) at the end of July. The theme is "We are all geeks" and contestants are supposed to design any type of card, be it a "Happy Birthday" card or "Missing You" card, with the exception that it has to be related to geeks or geekdom.
I posted two entries, and now I need your help to rate my card designs. I'm not asking for biased ratings, just a little bit of your time to rate my two designs. See, the rating system is a bit different this time, as they don't want it to be a popularity contest. So how do they deal with that? They set up a random card rating system, whereby you will have to rate the cards randomly as they come up. Think of it as a shuffled playlist you get with your music player. You can rate the cards randomly 'til you get to my cards if you want to, but if you rate all of them you get a free card sent to you. One more thing, you have to register yourself in Foldees.com so that you input your address (or not).
Without further adieu, I'll post my entries I submitted. Just a note - the otak3pagi.blogspot.com is NOT included in the design, its just my sig for this blog.
1st Entry - Geek & GPS - Thinking of You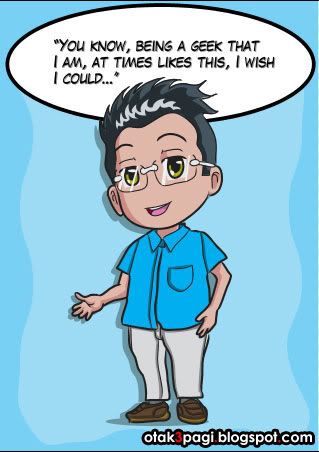 Cover of the card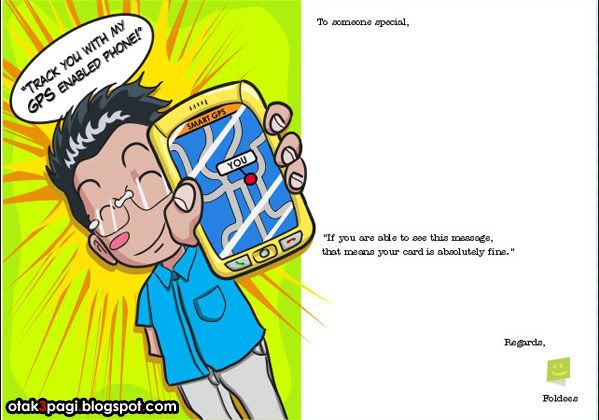 Inside of the card
Description
The card is a Thinking of You card, you have a guy talking about how he's a geek, and he thinks about you, but seeing that he is a geek, he's display of being thoughtful comes out in the form of his GPS-enabled PDA. Innocently, he wants to put plot you in his PDA so that he can track you. Thoughtful, yet a bit stalkerish, but that's just technology creeping up to you.
2nd Entry - Noodles for the Geek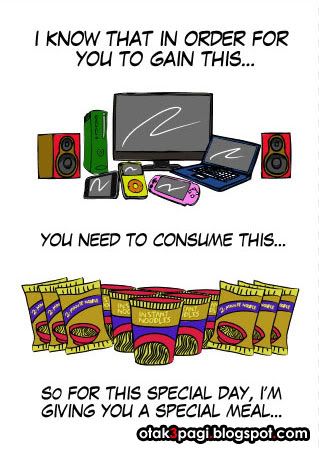 Cover of the card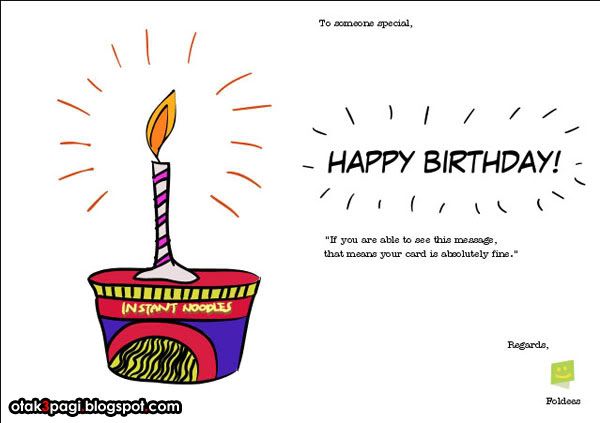 Inside of the card
A birthday card this time. I can relate to this card as I am a gadget freak myself, and being a geek who wants to get every gadget that comes out every few weeks, it takes a toll on your financial situation. So, what do you sacrifice? Your right to eat good food. Instant noodles are usually quite cheap and great to kill your hunger pangs. By buying gadgets, you have no choice but to buy instant noodles. Well, that's the general gist of it, so I hope you get what I'm trying to say. Anyway, the card is supposed to build anxiety and hope on the card reader, as he or she is expected to get something special, only to be served with yet another instant noodle in a cup, with just a birthday candle for to label it as "special".
Alright, those are my entries. I'm sorry about the quality of the 2nd entry as that was a very very very last minute entry but I just had to include that. Heck, i posted that at 11.59PM while on Wi-Fi in PD. I know its not an excuse and I'm guilty as charged as a procrastinator. At the very least, I got to submit it. I'll probably redo the card sometime in the future.
So, please please please, help me and support me, the more the merrier, as I'm trying to win the stuff to get extra funding for my upcoming wedding. Again, I'm not asking anyone to be biased and rate me 5, just rate according to what you think I should get. After all, I'm tired of popularity design contests myself. I want to strive to produce better art and designs. Click the image below for you to go straight to the random card rating engine.